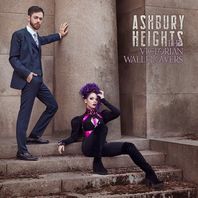 (Out Of Line)
Ashbury Heights haben in ihren Anfangsjahren mit den Veröffentlichungen "Spiders" und "Morningstar in a Black Car" die dunklen Tanzflächen gefüllt und für Furore gesorgt. Nachdem sich das ursprüngliche Duo getrennt hatte, konnte Anders Hagström mit der neuen Sängerin Tea F. Thimé erneut durchstarten und in 2015 ein neues Album präsentieren. "The Victorian Wallflowers" ist jetzt der Nachfolger der schwedischen Synth-Popper, der den gewohnten Sound aus synthetischen Klängen und klaren Beats fortführt. Auch wenn es schwer sein wird, die eingangs erwähnten Smash-Hits zu toppen, hat das neue Werk durchaus das Potential, wieder die Tanzflächen zu füllen, insbesondere durch den Up-Tempo-Opener "Headlights" und das etwas entschleunigte " If you are shooting with the left hand...!
4
Rock & Pop
›› JETT REBEL
›› THE KVB
›› MOTORAMA
›› THE BEAUTY OF GEMINA
›› SOLAR FAKE
›› PETER HEPPNER
›› PETER HEPPNER
›› THALIA ZEDEK BAND
›› SUMMER SALT
›› THE LEMON TWIGS
›› DOE
›› TOWN OF SAINTS
›› AMBER ARCADES
›› HER´S
›› MUTUAL BENEFIT
›› YUSUF SAHILLI
›› SWEARIN´
›› POP(PE)´S TÖNENDE WUNDERWELT
›› AVEC
›› V.A.
›› QUICKSILVER
›› CITY AND COLOUR
›› JOYCE MANOR
›› TINA DICO
›› AARON BROOKS
›› PRINCESS CHELSEA
›› MILES KANE
›› ANNA CALVI
›› DOWNPILOT
›› BC CAMPLIGHT
›› WE WERE PROMISED JETPACKS
›› STILL CORNERS
›› TONBANDGERÄT