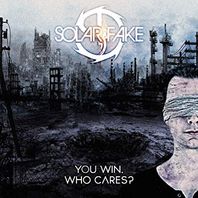 (Out Of Line)
Solar Fake nehmen uns wieder mit in ihre Welt elektronischer Beats und Synths. Das neue Werk setzt dazu einige politische und sozialkritische Statements, die jedoch oft in den elektronisch dominierten Klangwelten untergehen. "You win. Who cares?" kann aber in der Discografie des Elektro-Synth-Duos musikalisch durchaus überzeugen. Die reguläre Doppel-CD wartet zudem mit Remixen auf der zweiten Scheibe auf, darunter auch ein Cover von Editor's "Papillon", das man sich aber einfach hätte sparen können. Dennoch, die sehr liebevoll gestaltete Deluxe-Edition kann mit netten Gimmicks sowie der "Tranquilised"-CD aufwarten, die einige Akustikversionen des neuen Albums enthält.
3
Rock & Pop
›› JETT REBEL
›› THE KVB
›› MOTORAMA
›› THE BEAUTY OF GEMINA
›› ASHBURY HEIGHTS
›› PETER HEPPNER
›› PETER HEPPNER
›› THALIA ZEDEK BAND
›› SUMMER SALT
›› THE LEMON TWIGS
›› DOE
›› TOWN OF SAINTS
›› AMBER ARCADES
›› HER´S
›› MUTUAL BENEFIT
›› YUSUF SAHILLI
›› SWEARIN´
›› POP(PE)´S TÖNENDE WUNDERWELT
›› AVEC
›› V.A.
›› QUICKSILVER
›› CITY AND COLOUR
›› JOYCE MANOR
›› TINA DICO
›› AARON BROOKS
›› PRINCESS CHELSEA
›› MILES KANE
›› ANNA CALVI
›› DOWNPILOT
›› BC CAMPLIGHT
›› WE WERE PROMISED JETPACKS
›› STILL CORNERS
›› TONBANDGERÄT