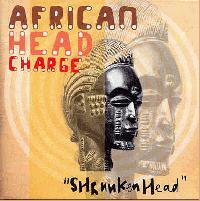 (On-U Sound/EFA)
Bei African Head Charge sollte man gar nicht so viele Worte verlieren, sondern in-tensive und ausdauernd die Musik anhören. Produzent Adrian Sherwood baute ein Album zusammen, das den Kosmos dieser Band, der die percussions favorisiert und im traditionellen afrikanischen Gesang verankert ist, in hervorragender Weise dar-stellt. African Blues ist zwar ein etikettierendes Schlagwort, gibt aber die Grundlage dieser Musik ziemlich präzise wieder. "Shrunken Head" ist ein remastertes Album, das mehr als dreiundzwanzig Jahre Musik dieser Band repräsentiert. Nur zwei neue Titel wurden hinzugenommen. Wer dann noch einen Sänger namens Albert Einstein vorweisen kann, dem stehen die Ohren der Welt offen. Wie bei African Head Charge.
4 Hunde
Reggae/Dub
›› SUB OSLO
›› V.A.
›› BURNT FRIEDMAN & THE NU DUB PLAYERS
›› MELLOW MARK
›› BILL LASWELL
›› UP, BUSTLE & OUT
›› GANJAMAN
›› SPACE MONKEYZ VS. GORILLAZ
›› V.A.
›› V.A.
›› MAD PROFESSOR MEETS MAFIA & FLUXY
›› LOVE JOYS
›› ANSEL COLLINS with SLY & ROBBIE
›› SANCHEZ
›› V.A.
›› LA BOOM
›› CAPLETON
›› V.A.
›› RUTS DC vs. MAD PROFESSOR vs. ZION TRAIN
›› LEE PERRY
›› THE GROOVE CORPORATION presents
›› V.A.
›› DR. WOGGLE & THE RADIO
›› V.A.
›› STRICTLY THE BEST