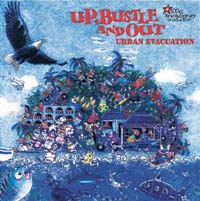 (Unique/PP Sales/Indigo)
Up, Bustle & Out sind jetzt beim Düsseldorfer Label Unique unter Vertrag und mit einer Reggaescheibe am Start. Natürlich ist es eher jamaikanische Inspiration als eine jamaikanische Platte, die Haupt"bustler" leben noch in Bristol und lassen immer noch ihre Elektronikjazzwurzeln erkennen, aber diese Platte mutet an wie eine Geschichte des Reggae seit den mid-70's: Harmonygesang im Rootsstyle, frecher Ragga und Poems, tief und wabernd wie LKJ. Ihre Authentizität und Spiritualität verdankt die Platte den Mitwirkenden wie MC Blaze, Ras Jabulani oder DJ Mexican, der Aufnahmetechnik und der liebevollen Produktion - eine echte Brücke aus Babylon. Gute Reggaeplatten sind selten geworden, hier ist eine.
4
Reggae/Dub
›› GANJAMAN
›› SPACE MONKEYZ VS. GORILLAZ
›› V.A.
›› V.A.
›› MAD PROFESSOR MEETS MAFIA & FLUXY
›› LOVE JOYS
›› ANSEL COLLINS with SLY & ROBBIE
›› SANCHEZ
›› V.A.
›› LA BOOM
›› CAPLETON
›› V.A.
›› RUTS DC vs. MAD PROFESSOR vs. ZION TRAIN
›› LEE PERRY
›› THE GROOVE CORPORATION presents
›› V.A.
›› DR. WOGGLE & THE RADIO
›› V.A.
›› STRICTLY THE BEST