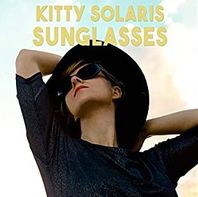 (Solaris Empire/Broken Silence)
Ein Album wie gemacht für Fahrten mit dem Auto mit offenem Dach oder zumindest geöffneten Seitenscheiben durch eine laue Sommernacht. Elektronische Beats paaren sich mit lässigen Synths und einer ebenso leichten Stimme. "Supermoon" ist da ein perfekter Einstieg für einen nächtlichen Cruise um die Häuser. Die Berlinerin adaptiert dazu mit "Sunglasses at night" Corey Harts' Hit, der perfekt in diese Szenerie passt und auf ganz eigene Weise interpretiert wird. Auch wenn die Gitarre sicher in der Zukunft ein wichtiger Begleiter bleibt, "Sunglasses" kommt auch prima ohne aus, ohne allzu sehr nur elektronisch zu klingen.
5
Rock & Pop
›› ALEX THE ASTRONAUT
›› V.A.
›› POP(PE)´S TÖNENDE WUNDERWELT
›› DREAM NAILS
›› PIPPA
›› GIANT ROOKS
›› SAN CISCO
›› THE BEAUTY OF GEMINA
›› BLADED
›› JAMES DEAN BRADFIELD
›› DELTA SPIRIT
›› DERADOORIAN
›› MOTORPSYCHO
›› QUICKSILVER
›› WIDOWSPEAK
›› GO GO GAZELLE
›› MIR EXPRESS
›› IN HEARTS WAKE
›› STRIKE ANYWHERE
›› BLAINE L. REININGER
›› V.A.
›› HINDS
›› QUICKSILVER
›› NIGHTHAWKS
›› ELLIE GOULDING
›› ALAIN JOHANNES
›› KING BUZZO WITH TREVOR DUNN
›› DIE LETZTEN OSTGOTEN
›› PRETENDERS
›› THE TEXAS GENTLEMEN
›› POP(PE)´S TÖNENDE WUNDERWELT
›› DEATH BY STEREO
›› DAILY THOMPSON