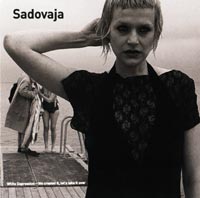 (Lucemusic/SPV)
Auf dem düsteren s/w-Cover eine herbe Blondine mit nassem Haar in schwarzem Kleid auf einem Steg direkt am Meer - Sarah Zodiak, Frontfrau der schwedischen Band Sadovaja. Suizid liegt in der Luft. Das drückt die Stimmung dieses ebenso abgründigen wie vielschichtigen Albums allerdings nur zum Teil. Im Grunde geht es in den Texten um Hoffnung, Trauer, Enttäuschung, Witterung von Morgenluft - dargebracht von Zodiaks mal zart säuselnder mal bedrohlich melancholischer, fast klagender Stimme und begleitet von Strings, Piano + Gitarre/Bass/Drums von feinem Indie-Rock über schönen Pop bis zur Singer-Songwriter-Ballade.
5
VÖ: 4.3.
Rock & Pop
›› THE HYDROMATICS
›› HACK MACK JACKSON
›› FAVEZ
›› MILLIONAIRE
›› POEMS FOR LAILA
›› PUDDLE OF MUDD
›› NEW MODEL ARMY
›› DAMIEN JURADO & GATHERED IN SONG
›› GARY
›› GLEN MATLOCK AND THE PHILISTINES
›› NEKROMANTIX
›› ORANGE GOBLIN
›› ZOLI BAND
›› VIAJE A 800
›› THE MAGGOTS
›› MATTIAS "IA" EKLUNDH
›› MIND'S EYE
›› SHANE MACGOWAN'S POPES
›› LIMP
›› JAN PLEWKA
›› SONDRE LERCHE
›› LAUB.
›› V.A.
›› JIM O'ROURKE
›› BAZOOKA CAIN
›› BIS
›› TEENAGE FANCLUB & JAD FAIR
›› ECHOBRAIN
›› DESERT HEARTS
›› JULIAN DAWSON & GENE PARSONS
›› CONCRETE BLONDE
›› MARIANNE FAITHFULL
›› MARY COUGHLAN