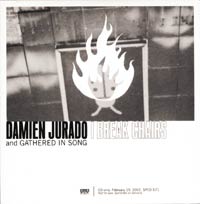 (Sub Pop Records/WEA)
Altmodisch? Womöglich. Handgemacht: ja! 'I Break Chairs' ist ein klarer Fall von sympathisch, aber nicht wirklich neu. Aber dafür entschädigen Songs wie 'Air Show Disaster' und 'Neverending' allemal. Jurado beherrscht vor allem die eher ruhigen Töne ('Inevitable'), wogegen Songs wie 'Paperwings' oder 'Dancing' ein wenig albacken klingen. Hin und wieder gelingt ihm aber auch richtig schönes gute Laune Lied wie 'Big Deal' oder 'The Way You Look'. Ein Highlight ist in jedem Fall 'Like Titanic' mit der wunderschönen Textzeile: 'she can sink me like Titanic and make my blood spill to her shores'. 'I Break Chairs' ist in jedem Fall ein Album zum Zuhören und Innehalten.
3
VÖ: 25.03.2002
Rock & Pop
›› THE HYDROMATICS
›› HACK MACK JACKSON
›› FAVEZ
›› MILLIONAIRE
›› SADOVAJA
›› POEMS FOR LAILA
›› PUDDLE OF MUDD
›› NEW MODEL ARMY
›› GARY
›› GLEN MATLOCK AND THE PHILISTINES
›› NEKROMANTIX
›› ORANGE GOBLIN
›› ZOLI BAND
›› VIAJE A 800
›› THE MAGGOTS
›› MATTIAS "IA" EKLUNDH
›› MIND'S EYE
›› SHANE MACGOWAN'S POPES
›› LIMP
›› JAN PLEWKA
›› SONDRE LERCHE
›› LAUB.
›› V.A.
›› JIM O'ROURKE
›› BAZOOKA CAIN
›› BIS
›› TEENAGE FANCLUB & JAD FAIR
›› ECHOBRAIN
›› DESERT HEARTS
›› JULIAN DAWSON & GENE PARSONS
›› CONCRETE BLONDE
›› MARIANNE FAITHFULL
›› MARY COUGHLAN