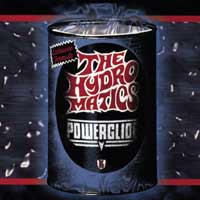 (Freakshow/Cargo)
"Powerglide" ist das zweite Album aus dem Dunstkreis der Superband von Scott Morgan (Sonic's Rendevous Band) und Tony Leeuwenburg (Loveslug, Nitwitz, BGK). Nicke Royale (Hellacopters) hat der Band inzwischen wegen zu vollem Tourkalender den breiten Rücken gekehrt. Wurzelte das erste Album noch fest im Aussie-Garagensound von Radio Birdman, klingt "Powerglide" dagegen vor allem in den mit Bläsern veredelten Songs und denen, die sogar an Van Morrison erinnern, schon wesentlich geleckter. Zum Glück erreichen sie auch kompositorisch die Qualität des Vorbildes. Trotzdem hinterlassen die robusten Rocknummern den besten Eindruck, aber das ist Geschmackssache.
4
Rock & Pop
›› HACK MACK JACKSON
›› FAVEZ
›› MILLIONAIRE
›› SADOVAJA
›› POEMS FOR LAILA
›› PUDDLE OF MUDD
›› NEW MODEL ARMY
›› DAMIEN JURADO & GATHERED IN SONG
›› GARY
›› GLEN MATLOCK AND THE PHILISTINES
›› NEKROMANTIX
›› ORANGE GOBLIN
›› ZOLI BAND
›› VIAJE A 800
›› THE MAGGOTS
›› MATTIAS "IA" EKLUNDH
›› MIND'S EYE
›› SHANE MACGOWAN'S POPES
›› LIMP
›› JAN PLEWKA
›› SONDRE LERCHE
›› LAUB.
›› V.A.
›› JIM O'ROURKE
›› BAZOOKA CAIN
›› BIS
›› TEENAGE FANCLUB & JAD FAIR
›› ECHOBRAIN
›› DESERT HEARTS
›› JULIAN DAWSON & GENE PARSONS
›› CONCRETE BLONDE
›› MARIANNE FAITHFULL
›› MARY COUGHLAN