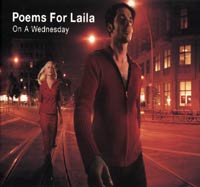 (Vielklang/EFA)
Nun heißt es mit offenem Mund und Ohr an jedem Ort des Globus Platz zu nehmen, wenn "On A Wednesday" im Player liegt. Luftig gekleideter Rock im stimmungsvollen Strom, leicht seelenwund und gottverschlossen und dabei so warm wie ein Sack glühender Kohlen, trifft auf Pop. Mit Julia von den Lemonbabies haben Nikolai Tomas und seine Mannen eine perfekte Neubesetzung im Boot, mit denen die Puschen von Laila mächtig an Fahrwasser gewinnen. Auf "On A Wednesday" (siebtes Album) präsentiert sich dem Zuhörer eine Band mit vielschichtigen Anleihen aus Folklore, Chanson, Songwriting, und Independent-Poprock.
4
Rock & Pop
›› THE HYDROMATICS
›› HACK MACK JACKSON
›› FAVEZ
›› MILLIONAIRE
›› SADOVAJA
›› PUDDLE OF MUDD
›› NEW MODEL ARMY
›› DAMIEN JURADO & GATHERED IN SONG
›› GARY
›› GLEN MATLOCK AND THE PHILISTINES
›› NEKROMANTIX
›› ORANGE GOBLIN
›› ZOLI BAND
›› VIAJE A 800
›› THE MAGGOTS
›› MATTIAS "IA" EKLUNDH
›› MIND'S EYE
›› SHANE MACGOWAN'S POPES
›› LIMP
›› JAN PLEWKA
›› SONDRE LERCHE
›› LAUB.
›› V.A.
›› JIM O'ROURKE
›› BAZOOKA CAIN
›› BIS
›› TEENAGE FANCLUB & JAD FAIR
›› ECHOBRAIN
›› DESERT HEARTS
›› JULIAN DAWSON & GENE PARSONS
›› CONCRETE BLONDE
›› MARIANNE FAITHFULL
›› MARY COUGHLAN