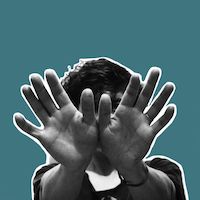 (4AD / Beggars Group / Indigo)
Merrill Garbus' Stil war schon immer eigenwillig. Irgendwie lo-fi Art-Pop, mit Worldmusic-Einschlägen und Loops. Und auch beim aktuellen Album steuert ihr langjähriger Projektkollege Nate Brenner – so präsent wie selten – den Bass bei. "I Can Feel You Creep Into My Private Life" sei tUnE-yArDs' Dance-Album, heißt es stark paraphrasiert seitens des Labels, und das ist nicht von der Hand zu weisen. Sind das etwa 90er-Dance-Anleihen? Vollkommen abwegig ist das nicht. Thematisch geht es trotz Tanzbarkeit in den zwölf Stücken ums Eingemachte: Politik, Feminismus, Umwelt. Irgendwie Anti-Trump.
4
Weitere Infos:
http://tune-yards.com
Rock & Pop
›› ANNA BURCH
›› CALEXICO
›› BLACK REBEL MOTORCYCLE CLUB
›› BELLE ADAIR
›› GEOWULF
›› WILD CHILD
›› TYPHOON
›› CHARLES HOWL
›› HAVE YOU EVER SEEN THE JANE FONDA AEROBIC VHS?
›› WEEDPECKER
›› FIELD MUSIC
›› POLIÇA AND STARGAZE
›› KARI BREMNES
›› SHAME
›› NICK J.D. HODGSON
›› POP(PE)´S TÖNENDE WUNDERWELT
›› AKSAK MABOUL
›› DIRTMUSIC
›› HOLLER MY DEAR
›› LEF
›› NADINE
›› SIN FANG/SÓLEY/ÖRVAR SMARÁSON
›› MILS
›› EXFEIND
›› DREAM WIFE
›› TURIN BRAKES
›› JAGUWAR
›› QUICKSILVER
›› JOAN AS A POLICE WOMAN
›› NATHAN GRAY
›› CITY BLUES CONNECTION
›› ROBERT FINLEY
›› A CERTAIN RATIO