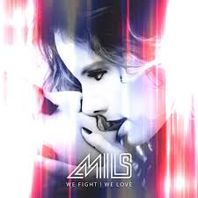 (Downtone Studio)
Montpellier im Süden Frankreichs ist die Heimat der im Jahre 2008 gegründeten Formation Mils, die sich selbst als Elektro-Rock-Gang bezeichnen. Nach ihrem Debut aus dem Jahre 2012 warten die Franzosen nun mit einer neuen EP auf, bei der auch die neue Sängerin Melodie zu hören ist. Mils verbinden Retro-Rock-Sounds mit elektronischen Klängen und können mit den fünf Songs der neuen EP durchaus überzeugen. Der Sound wirkt frisch und kraftvoll, auch der stimmliche Umfang der neuen Sängerin kann durchaus überzeugen und all die Hörer überzeugen, die mit der Verbindung klassischer Rocksounds im elektronischen Gewand etwas anfangen können.
3
Rock & Pop
›› ANNA BURCH
›› CALEXICO
›› BLACK REBEL MOTORCYCLE CLUB
›› BELLE ADAIR
›› GEOWULF
›› WILD CHILD
›› TYPHOON
›› CHARLES HOWL
›› HAVE YOU EVER SEEN THE JANE FONDA AEROBIC VHS?
›› WEEDPECKER
›› FIELD MUSIC
›› POLIÇA AND STARGAZE
›› KARI BREMNES
›› SHAME
›› NICK J.D. HODGSON
›› POP(PE)´S TÖNENDE WUNDERWELT
›› AKSAK MABOUL
›› DIRTMUSIC
›› HOLLER MY DEAR
›› LEF
›› NADINE
›› SIN FANG/SÓLEY/ÖRVAR SMARÁSON
›› EXFEIND
›› DREAM WIFE
›› TURIN BRAKES
›› JAGUWAR
›› QUICKSILVER
›› JOAN AS A POLICE WOMAN
›› NATHAN GRAY
›› TUNE-YARDS
›› CITY BLUES CONNECTION
›› ROBERT FINLEY
›› A CERTAIN RATIO