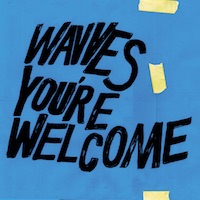 (Ghost Ramp / Secretly Distribution / Cargo)
Wer braucht schon ein Major Label!? Nach Streit mit Warner Records, hauen ihr in Los Angeles eingespieltes und produziertes Album einfach auf dem eigenen Label raus. "You're Welcome", dann eben so. Zurück zu den Wurzeln also – irgendwie DIY – aber nicht was die musikalische Qualität angeht, dafür sind die Musiker um Nathan Williams inzwischen zu professionell und surfen auf einem erfrischenden 60s-Sound auf Steroiden, der wie Kalifornien klingt. Der Strandjungs- und -Mädchen-Soundtrack für den Sommer. Wo ist die Tanzfläche?
4
Weitere Infos:
http://wavves.net/
Rock & Pop
›› BEACH HOUSE
›› ALT-J
›› BROKEN SOCIAL SCENE
›› BIG THIEF
›› SWEET BABOO
›› THE AUTUMN SIGHS
›› LEVENT
›› DIE LIGA DER GEWÖHNLICHEN GENTLEMEN
›› F.S.K.
›› THE TELESCOPES
›› LAIBACH
›› V. A.
›› AMANDA
›› KRAFTKLUB
›› DER PLAN
›› QUICKSILVER
›› LICHTGESTALT
›› Anathema
›› POP(PE)´S TÖNENDE WUNDERWELT
›› JOHN MURRY
›› BJØRN RIIS
›› DO MAKE SAY THINK
›› MELVINS
›› ALPHA MALE TEA PARTY
›› COLOR FILM
›› KATY PERRY
›› KOSMONOVSKI
›› THE RUBY SUNS
›› SLEEP PARTY PEOPLE
›› WAXAHATCHEE
›› FABER
›› FABER
›› FAZERDAZE