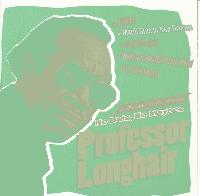 (Hoodoo / Harmonia Mundi)
Zwischen 1949 und 1957 nahm Professor Longhair für verschiedene amerikanische Labels wie Atlantic, Mercury oder Wasco packende Rhythm & Blues-Titel auf. Mit einer Ausnahme fanden die Sessions in der "Crescent City" New Orleans statt, in der der Professor (bürgerlich: Henry Roeland Byrd) – auch Fess genannt - eine vom Boogie-Woogie beeinflusste, vom Rock'n'Roll begleitete Musik machte. Seine Ideen inspirierten viele Musiker und formten den weltbekannten Mardi Gras-Sound, sein Name ist untrennbar mit dem Titel "Tipitina" verbunden, der New Orleans-Hymne schlechthin. Mit an Bord sind die Klassiker "Mardi Gras In New Orleans", "Her Mind Is Gone" und "In The Night". Eine flotte Scheibe, die den Geist des "Fetter Dienstag" (Karnevalsdienstag) transportiert und einen exzellenten R&B-Musiker vorstellt.
3
Rock & Pop
›› SEBADOH
›› THE KILLS
›› V.A.
›› WITHIN TEMPTATION
›› PARZIVAL
›› LYKKE LI
›› R.E.M.
›› VARIOUS ARTISTS
›› SAMBA
›› HAUSCHKA
›› SIX ORGANS OF ADMITTANCE
›› FRIEDMAN & LIEBEZEIT
›› VARIOUS ARTISTS
›› TARAF DE HAIDOUKS & KOCANI ORKESTAR
›› WIRES UNDER TENSION
›› NICOLE ATKINS
›› JOE BONAMASSA
›› THE VIEW
›› POP(PE)´S TÖNENDE WUNDERWELT
›› CLUESO
›› MIRRORS
›› F.S.K.
›› MOBYLETTES
›› THE BASEBALL PROJECT
›› THE GOLDBERG SISTERS
›› LA SERA
›› THE CROOKES
›› ELEVENTH DREAM DAY
›› FRISKA VILJOR
›› QUICKSILVER
›› THE SEDAN VAULT
›› FUTURE FLUXUS
›› BLACK RUST