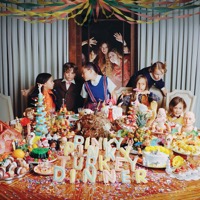 (Innovative Leisure / Membran / H'Art)
Drei High-School-Freundinnen machen in ihrer Garage Indie-Rock. Für viele junge Frauen hört die Geschichte hier auf, nicht jedoch für Pinky Pinky aus Los Angeles. In klassischer Bandbesetzung jedoch Gesangsmikro am Drumset haben sich Dummerin und Sängerin Anastasia Sanchez, Gitarristin Isabelle Fields und Bassistin Eva Chambers durch mehrere Genres gerockt, nur um festzustellen, dass sie sich gar nicht festlegen müssen. Herausgekommen ist ein wunderbarer Mix von punkig, über Psychelic, Blues und Surf, alles verpackt in Garage-Sound. Das Debüt beeindruckt auf voller Linie.
5
Weitere Infos: https://www.pinkypinkytheband.com
Rock & Pop
›› JAMESTOWN REVIVAL
›› RICHARD REED PARRY
›› ELLIE FORD
›› AGENT BLÅ
›› THE HARMALEIGHS
›› EMMA ELISABETH
›› JUDAH & THE LION
›› COMBICHRIST
›› SIGNAL AOUT 42
›› COLD SHOWERS
›› VERSENGOLD
›› GARDEN OF DELIGHT
›› NO MORE
›› POP(PE)´S TÖNENDE WUNDERWELT
›› ALEXA FESER
›› SARAH CONNOR
›› JAMIE LENMAN
›› BAND APART
›› NEW ORDER
›› V.A.
›› CHRIS ROBINSON BROTHERHOOD
›› DRAB MAJESTY
›› DRESSY BESSY
›› MADDER ROSE
›› CHARLY BLISS
›› GAUCHE
›› DEFEATER
›› QUICKSILVER
›› CARNIVAL YOUTH
›› SLEATER-KINNEY
›› CRUMB
›› KYLE CRAFT
›› PLASTIC MERMAIDS