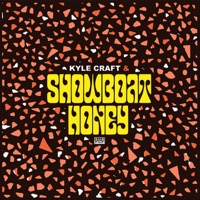 (Sub Pop / Cargo Records)
Mit "Showboat Honey" legt der Singer-Songwriter Kyle Craft bereits sein drittes Album bei Sub Pop vor. Mittlerweile hat sich um den Musiker aus Portland mit Kevin Clark und Billy Slater eine feste Band gebildet. Der teils süßlich, fröhlichem Folk-/Glamrock bietet einen abwechslungsreichen Strauß an Melodien, die einen unmittelbar in die Siebzigerjahre versetzen, was niemals altbacken, sondern immer frisch und bestenfalls klassisch rüberkommt. Mit knapp 36 Minuten ist die Platte leider etwas kurz ausgefallen, es hilft also nur, das Ganze nochmal von vorne zu hören.
4
Weitere Infos: https://fb.com/kylecraftmusic/
Rock & Pop
›› JAMESTOWN REVIVAL
›› RICHARD REED PARRY
›› ELLIE FORD
›› AGENT BLÅ
›› THE HARMALEIGHS
›› EMMA ELISABETH
›› JUDAH & THE LION
›› COMBICHRIST
›› SIGNAL AOUT 42
›› COLD SHOWERS
›› VERSENGOLD
›› GARDEN OF DELIGHT
›› NO MORE
›› POP(PE)´S TÖNENDE WUNDERWELT
›› ALEXA FESER
›› SARAH CONNOR
›› JAMIE LENMAN
›› BAND APART
›› NEW ORDER
›› V.A.
›› CHRIS ROBINSON BROTHERHOOD
›› DRAB MAJESTY
›› DRESSY BESSY
›› MADDER ROSE
›› CHARLY BLISS
›› GAUCHE
›› DEFEATER
›› QUICKSILVER
›› CARNIVAL YOUTH
›› SLEATER-KINNEY
›› CRUMB
›› PINKY PINKY
›› PLASTIC MERMAIDS