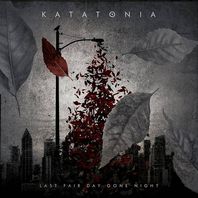 (Peaceville/Edel)
Bereits im Jahre 2011 zelebrierten Katatonia ihr 20jähriges Bandjubiläum im Rahmen mehrerer Konzerte im Londoner Koko, liefern jedoch seltsamerweise erst 3 Jahre später einen Beleg für dieses Jubiläum, der dafür aber wirklich voluminös daher kommt. Das Mediabook umfasst neben einem 20seitigen Booklet mit umfassenden Artwork eine Doppel-Live-CD des Konzerts vom Mai 2011 nebst einer DVD des kompletten Konzerts sowie eine weitere DVD mit einer mehr als zweistündigen Dokumentation über das 20jährige Schaffen der Band. Mittlerweile hat sich der Sound der schwedischen Metaller zwar eindeutig in Richtung Prog entwickelt, dieses Dokument umfasst jedoch bis 2011 Höhepunkte der Band, die auch im Dark Rock, Doom und Metal wurzeln.
4
Rock & Pop
›› SLOWNESS
›› PURPLE
›› RÖKKURRO
›› J MOON
›› TINDERSTICKS
›› V.A.
›› THE FOREIGN RESORT
›› LUNATIC SOUL
›› NEW BUILD
›› POP(PE)´S TÖNENDE WUNDERWELT
›› THE FLAMING LIPS
›› SELIG
›› MUTTER
›› HGICH.T
›› THE DØ
›› THE MINISTRY OF WOLVES
›› V.A.
›› KRISTEEN YOUNG
›› KRIS KRISTOFFERSON
›› MYSTERIES
›› COOLY G
›› LUCINDA WILLIAMS
›› STATION 17
›› THE ASTEROID #4
›› FRANK ZAPPA
›› PRINCE
›› BURNT FRIEDMAN w/ DANIEL DODD-ELLIS
›› CAN
›› WARM GRAVES
›› THE DRUMS
›› WILDBIRDS & PEACEDRUMS
›› NUDE BEACH
›› MINERAL