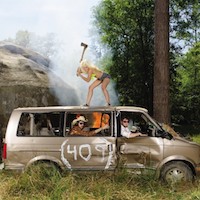 (PIAS / Rough Trade)
Ausruhen ist hier nicht. Purple spulen auf ihrem Debütalbum "(409)" den kompletten Wahnsinn durch, der einem Musiker in Texas so in den Kopf schießen kann, ihn aber sonst für zu verrückt hält. Das Girl-Boy-Boy-Trio schafft es den Wahnsinn zu reiten. Wildes Durcheinander, Dialoge, sie singt/er singt, die Stimmung bis Anschlag fröhlich aufgedreht oder auch aggressiv. Erste Regel des texanischen Fight Clubs: Es gibt keine. Zweite Regel: Ausrasten. Genre-mäßig nehmen Purple alles mit, was laut ist und Krach macht, auch innerhalb einzelner Songs. Nach knapp über vollgestopften 33 Minuten ist der Spuk leider schon vorbei, aber man ist wach.
4
Weitere Infos:
http://purpletexasmusic.com
Rock & Pop
›› SLOWNESS
›› RÖKKURRO
›› J MOON
›› TINDERSTICKS
›› V.A.
›› THE FOREIGN RESORT
›› LUNATIC SOUL
›› NEW BUILD
›› KATATONIA
›› POP(PE)´S TÖNENDE WUNDERWELT
›› THE FLAMING LIPS
›› SELIG
›› MUTTER
›› HGICH.T
›› THE DØ
›› THE MINISTRY OF WOLVES
›› V.A.
›› KRISTEEN YOUNG
›› KRIS KRISTOFFERSON
›› MYSTERIES
›› COOLY G
›› LUCINDA WILLIAMS
›› STATION 17
›› THE ASTEROID #4
›› FRANK ZAPPA
›› PRINCE
›› BURNT FRIEDMAN w/ DANIEL DODD-ELLIS
›› CAN
›› WARM GRAVES
›› THE DRUMS
›› WILDBIRDS & PEACEDRUMS
›› NUDE BEACH
›› MINERAL