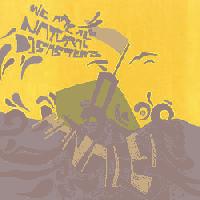 (THICK records/Southern/Soulfood)
So recht kann sich Brian Moss (von den Postpunkern 'The Ghost'), Multiinstrumentalist und der große Kopf hinter Hanalei nicht entscheiden. Nebst offensichtlich von den Postal Services beeinflussten Elektropopballaden steht immer wieder der klassische Countryfolk, ohne die verschnörkelnde Verziererei, die heute ja so manch unausgegorenen Song hörbar macht. Mensch, ist das...nett! Total nett! Aber wie Mensch weiß, ist nett ja nicht immer ein uneinschränkungsfrei positives Attribut. In manchen Momenten würde diesem Debut ein wenig Dissonanz, ein wenig Reibung gut zu Gesicht stehen.
3
Rock & Pop
›› BURKA BAND
›› LIQUID LAUGHTER LOUNGE QUARTET
›› MARDI GRAS. BB
›› MIOSSEC
›› MODENA CITY RAMBLERS
›› TOM POISSON
›› SAITLINGE
›› TIJUANA MON AMOUR BROADCASTING INC.
›› TUXEDOMOON
›› THE BLACK KEYS
›› SWEATMASTER
›› THEE SHAMS
›› TANYA DONELLY
›› THEY MIGHT BE GIANTS
›› V. A.
›› SEX IN DALLAS
›› OMR
›› THE CURE
›› LOW
›› MARAH
›› RINGO STARR & HIS ALL-STAR BAND
›› C.B. GREEN
›› THE ALBUM LEAF
›› BLUE STATES
›› MARA CARLYLE
›› VARIOUS ARTISTS
›› VARIOUS ARTISTS
›› THE BOOMERS
›› VARIOUS ARTISTS
›› ANTIBALAS AFROBEAT ORCHESTRA
›› JAY-JAY JOHANSON
›› K. C. ACCIDENTAL
›› DR. PEPPER FAMILY