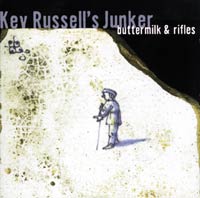 (Munich)
Wer Kev Russel noch von den Gourds her kennt, der wird angenehm von diesem Solo Debut überrascht: Alle Tugenden seiner Hausband hat Russel übernommen und noch eins draufgesetzt. Sperrig, grummelig und poltern bohrt sich Russel durch die ganze Welt der Amerikana. Mit einer Unzahl von Gästen (Max Johnston, John Dee Graham etc.) bietet Russel seine Sicht der Dinge und die ist ungeschönt und schmutzig. Gerade deswegen trifft diese Scheibe genau ins Herz. Da merkt man, daß jemand mit Leib und Seele bei der Sache ist – und dieses auch auf CD umzusetzen weiß.
4
Singer/Songwriter
›› KELLY JOE PHELPS
›› GALLOP
›› LAMBCHOP
›› SODASTREAM
›› GÖTZ WIDMANN
›› JOINT VENTURE
›› NEIL HALSTEAD
›› JOSH ROUSE
›› BRIAN WILSON
›› JULY SKIES
›› HOPE SANDOVAL & THE WARM INVENTIONS
›› CHRIS CACAVAS
›› IAN BROWN
›› MARY LOU LORD
›› BLUE RODEO
›› MICHAEL WESTON KING
›› TANYA DONELLY
›› VOICES ON THE VERGE
›› CHUCK E. WEISS
›› PETER STUART
›› SAVOY GRAND
›› SONGS: OHIA
›› SAVOY GRAND
›› DAVID KITT
›› DANNI LEIGH
›› TILMAN ROSSMY
›› V.A.