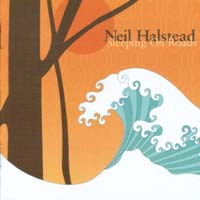 (4AD / PIAS)
Neil Halstead war ja eigentlich immer schon Mojave 3. Nie kam so ganz raus, warum Rachel Goswell´s Anteile bei diesem Projekt ständig zurückgingen. Nun hat Neil die Konsequenz gezogen und firmiert unter eigenem Namen. Die Ausrichtung bleibt indes gleich: Melancholische, verträumte Rock-Songs, die ein wenig spartanischer geraten sind, als noch auf der letzten CD. Indem Halstead öfters auch zu ganz akustischen Arrangements singt, klingt es des häufigeren mehr nach Simon und Garfunkel, als ihm vermutlich selbst lieb ist. Obwohl Neil stets gute Scheiben macht, kann man sich des Gefühls nicht erwehren, daß sein Meisterstück immer noch in ihm schlummert.
3
Singer/Songwriter
›› GÖTZ WIDMANN
›› JOINT VENTURE
›› JOSH ROUSE
›› BRIAN WILSON
›› JULY SKIES
›› HOPE SANDOVAL & THE WARM INVENTIONS
›› CHRIS CACAVAS
›› IAN BROWN
›› MARY LOU LORD
›› BLUE RODEO
›› MICHAEL WESTON KING
›› TANYA DONELLY
›› VOICES ON THE VERGE
›› CHUCK E. WEISS
›› PETER STUART
›› SAVOY GRAND
›› SONGS: OHIA
›› SAVOY GRAND
›› DAVID KITT
›› DANNI LEIGH
›› TILMAN ROSSMY
›› V.A.