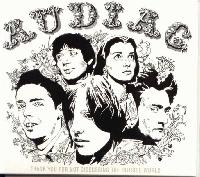 (Klangbad/EFA)
Vergleichbare Musik wie die von Audiac findet sich eher selten. Ganzheitlich elektronisch ist sie nicht, ganzheitlich aus dem Rockumfeld aber auch nicht. Vor allem hat das Album nichts von überproduzierter deutsche Kunstmusik. Vielleicht liegt das am Produzenten. Hans-Joachim Irmler, früher bei Faust engagiert, hielt dafür die Hand ins Feuer. Das Quartett um Alex Wiemer und Niklas David (+ Rudi Leichtle und Brandow) nahm sich die Freiheit, schaute mal etwas bei Fred Frith herein und fand auch bei den frühen Talk Talk etwas Stoff. Etwas Weltschmerz schwingt mit, dominiert aber nicht den eigenen Grundton. Und immer ist Raum für die große Geste, wie besonders in "Hey Joe/Ads" zu hören. Audia fanden ein Modell, dem Elektro-Einerlei-Gewerbe etwas Handfestes entgegen zustellen.
3 Hunde
Rock & Pop
›› ANGELIKA EXPRESS
›› TROST
›› THE BAD APPLES
›› V.A.
›› GRANDPABOY
›› BOW WOW WOW
›› BERT KAEMPFERT
›› CULPER RING
›› O.S.T.
›› VARIOUS ARTISTS
›› MIKE GORDON
›› THE LIONHEART BROTHERS
›› STARFIGHTER
›› BLACKSTRAP
›› ISOBEL CAMPELL
›› CARLO FASHION
›› CLEAR HORIZON
›› CHARALAMBIDES
›› DEAN ROBERTS
›› THE BOONAAARAS
›› KOMMANDO SONNE-NMILCH
›› LOS BANDITOS
›› V.A.
›› SOPHIE ELLIS-BEXTOR
›› RACHEL'S
›› BRIAN JONESTOWN MASSACRE
›› TOCOTRONIC
›› MOVIETONE
›› BELLE & SEBASTIAN
›› DEATH CAB FOR CUTIE
›› TRAVIS
›› V.A.
›› LOWGOLD