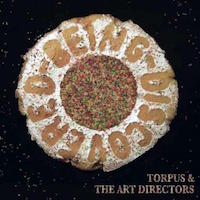 (Grand Hotel van Cleef / Indigo / Finetunes)
Eine 10"-Platte nur mit Coverversionen? Torpus & The Art Directors hauen das zwischen den Alben mal so eben raus. Fünf Lieblingslieder der Band. Und da einfach nachspielen langweilig wäre und für eine ernstzunehmede Band auch kaum vertretbar wäre, gibt es hier MGMT, Angus & Julia Stone, Cardigans, Keane und Robert Palmer ordentlich durch den Torpus-Fleischwolf gedreht. Entstanden sind z.T. völlig neue Songs, zumindest neue Perspektiven. Schnulzpop im Drecksrockgewand und umgedreht. Nur auf Vinyl oder digital (Download/Streaming) zu haben.
4
Weitere Infos:
http://www.torpus.de/
Rock & Pop
›› THE BLACKBERRIES
›› POP(PE)´S TÖNENDE WUNDERWELT
›› MOONFACE & SIINAI
›› GOOD CHARLOTTE
›› HER
›› AIRBAG
›› IN EXTREMO
›› M.O.L.PRO.JECT.
›› CAR SEAT HEAD REST
›› LITTLE SCREAM
›› MJ GUIDER
›› NEW ORDER
›› STEPHEN STEINBRINK
›› RED HOT CHILI PEPPERS
›› QUICKSILVER
›› LOLA COLT
›› THE EXPLORERS CLUB
›› M. CRAFT
›› BEYOND THE WIZARDS SLEEVE
›› KINO KIMINO
›› NEO RODEO
›› PIERCE THE VEIL
›› BAND OF HORSES
›› WEIRD DREAMS
›› AUGUSTINES
›› Fatherson
›› CHRIS COHEN
›› WILD BILLY CHILDISH & CTMF
›› KRISTIN KONTROL
›› THE STRUMBELLAS
›› GRAUSAME TÖCHTER
›› SAMARIS
›› MAYFLOWER MADAME