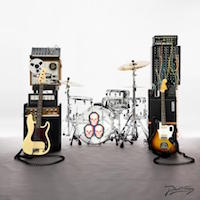 (Phantasy / PIAS Cooperative)
Beyond the Wizards Sleeve sind ein Londoner Elektro-Duo. Erol Alkan und Richard Norris haben mit ihrem Debüt "The Soft Bounce" ein Album hingelegt, das wie ein Soundtrack zu einem Kinofilm klingt. Schnitt, neue Szene, neue Stimmung, neue Handlung, neue Protagonisten. Wer versucht anhand eines Songs einen Stil herauszuhören, wird scheitern. In der Vergangenheit haben die beiden sich einen Namen mit ihrer Arbeit für andere bekanntere Indiekünstler gemacht. Das Motto "they do not remix, they re-animate" bringt es auf den Punkt. Dieses Mal inszenieren sie sich selbst und das wunderbar.
4
Weitere Infos: https://fb.com/beyondthewizardssleeve
Rock & Pop
›› THE BLACKBERRIES
›› POP(PE)´S TÖNENDE WUNDERWELT
›› MOONFACE & SIINAI
›› GOOD CHARLOTTE
›› HER
›› AIRBAG
›› IN EXTREMO
›› M.O.L.PRO.JECT.
›› CAR SEAT HEAD REST
›› LITTLE SCREAM
›› MJ GUIDER
›› NEW ORDER
›› STEPHEN STEINBRINK
›› RED HOT CHILI PEPPERS
›› QUICKSILVER
›› LOLA COLT
›› THE EXPLORERS CLUB
›› M. CRAFT
›› KINO KIMINO
›› NEO RODEO
›› TORPUS & THE ART DIRECTORS
›› PIERCE THE VEIL
›› BAND OF HORSES
›› WEIRD DREAMS
›› AUGUSTINES
›› Fatherson
›› CHRIS COHEN
›› WILD BILLY CHILDISH & CTMF
›› KRISTIN KONTROL
›› THE STRUMBELLAS
›› GRAUSAME TÖCHTER
›› SAMARIS
›› MAYFLOWER MADAME