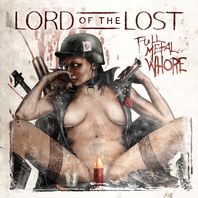 (Out Of Line Music)
Den Hamburger Jungs kann man wirklich nicht vorwerfen, in Lethargie zu verfallen. Nahezu unermüdlich hauen die Goth-Rocker eine Produktion nach der anderen raus. Nach den orchestralen Swan Songs Anfang des Jahres kehren sie jetzt aber wieder auf bekanntes Terrain zurück und veröffentlichen mit Full Metal Whore eine brachiale EP, auf der es nicht nur der metallische Titelsong in sich hat. Insgesamt 6 Songs, die allesamt exzentrische Härte zelebrieren, wurden hier versammelt, um die Gehörgänge ordentlich durchzupusten. Erstaunlich aber wahr, trotz einer fast schon inflationären Veröffentlichungspolitik gehen Lord of the Lost die Ideen nicht aus.
5
Rock & Pop
›› BRITISH SEA POWER
›› SUPERTRAMP
›› CRO
›› OSCAR
›› AUTHOR & PUNISHER
›› VERSENGOLD
›› AUTOBAHN
›› LINIE
›› MIDAS FALL
›› NO MORE
›› INNER TONGUE
›› LINDEMANN
›› CREEPOID
›› DUCKTAILS
›› JOHN HOWARD & THE NIGHT MAIL
›› RIDE
›› THE LONDON SOULS
›› SUSIE ASADO
›› ADMIRAL FALLOW
›› POP(PE)´S TÖNENDE WUNDERWELT
›› THE TELESCOPES
›› QUICKSILVER
›› NATHAN GRAY
›› MISCHIEF BREW
›› TEMPLETON PEK
›› TITUS ANDRONICUS
›› HERRENMAGAZIN
›› ALBERT HAMMOND JR.
›› HEATHER WOODS BRODERICK
›› THE WYNNTOWN MARSHALS
›› CHRIS STAMEY
›› THE HOLYDRUG COUPLE
›› DIRTY FENCES