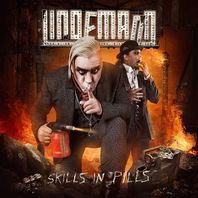 (Warner Music)
Die Kollaboration zwischen Till Lindemann und Peter Tägtgren überrascht nicht wirklich, kennen sich die beiden doch schon seit einer halben Ewigkeit, und auch musikalisch verfügen die Protagonisten über durchaus große, gemeinsame Schnittmengen. Auch wenn der Rammstein-Frontmann dem Projekt seinen Namen und sicher auch seine Bekanntheit verleiht, darf die Arbeit von Peter Tägtgren nicht zu gering eingestuft werden, schließlich spielt er auf dem Album sämtliche Instrumente, während Lindemann seine unverwechselbare Stimme in englischer Sprache brillieren lässt. Und das funktioniert auch, die Texte sind zwar einfach gehalten, dennoch entwickelt sich unzweifelhaft diese bitterböse Lindemannsche Lyrik, wie beispielsweise die Texte auf dem Titelsong oder auf der ersten Singleveröffentlichung "Praise Abort" eindeutig belegen.
5
Rock & Pop
›› BRITISH SEA POWER
›› SUPERTRAMP
›› CRO
›› OSCAR
›› AUTHOR & PUNISHER
›› VERSENGOLD
›› AUTOBAHN
›› LINIE
›› MIDAS FALL
›› NO MORE
›› INNER TONGUE
›› LORD OF THE LOST
›› CREEPOID
›› DUCKTAILS
›› JOHN HOWARD & THE NIGHT MAIL
›› RIDE
›› THE LONDON SOULS
›› SUSIE ASADO
›› ADMIRAL FALLOW
›› POP(PE)´S TÖNENDE WUNDERWELT
›› THE TELESCOPES
›› QUICKSILVER
›› NATHAN GRAY
›› MISCHIEF BREW
›› TEMPLETON PEK
›› TITUS ANDRONICUS
›› HERRENMAGAZIN
›› ALBERT HAMMOND JR.
›› HEATHER WOODS BRODERICK
›› THE WYNNTOWN MARSHALS
›› CHRIS STAMEY
›› THE HOLYDRUG COUPLE
›› DIRTY FENCES