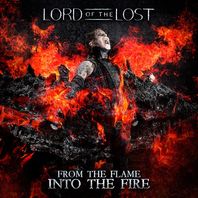 (Out Of Line/Rough Trade)
Die Vorabveröffentlichung "La Bomba" machte schon deutlich, dass die Hamburger auf ihrem neuen Album wohl einen deutlichen Zahn zulegen werden. War die Single noch eine (sehr gelungene) Metal-Salsa-Kombination, weisen die neuen Songs einen direkten Weg durch das Fegefeuer: Hart, schnell, kompromisslos! Natürlich kann und will die Band ihre Gothic-Rock-Wurzeln nicht verleugnen, dennoch beherrschen die Metal-Einflüsse ihr neues Werk. Das wird schon nach dem Intro von "Fists up in the Air" deutlich, nur "Go to Hell" lässt eine kleine Atempause zu, bis "Holy F" auch mit opern-lastigen Attributen überrascht.
"From the Flame Into The Fire" bringt in jedem Fall eine ganze Menge Spaß und dürfte zu einem deutlichen Karrieresprung von Lord of the Lost beitragen.
5
Rock & Pop
›› BELA B
›› HIGHASAKITE
›› CHRISSIE HYNDE
›› POP(PE)´S TÖNENDE WUNDERWELT
›› V. A.
›› OCHRE ROOM
›› THINE
›› INVSN
›› COLLAPSE UNDER THE EMPIRE
›› PETER MURPHY
›› ALCOHOLIC FAITH MISSION
›› THE JEFFREY LEE PIERCE SESSIONS PROJECT
›› JESSICA LEA MAYFIELD
›› THE ICYPOLES
›› PAPERCUTS
›› WILKO JOHNSON / ROGER DALTREY
›› JAH WOBBLE PRESENTS PJ HIGGINS
›› BOBBY BARE JR
›› ULITA KNAUS
›› VARIOUS ARTISTS
›› MISSES NEXT MATCH
›› DATASHOCK
›› O.S.T.
›› FEHLFARBEN
›› KASABIAN
›› BLONDIE
›› THE PAINS OF BEING PURE AT HEART
›› THE STACHES
›› QUICKSILVER
›› NEIL YOUNG
›› Heidi Happy
›› Baby Guru
›› Current Swell