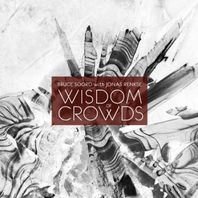 (Kscope/Edel)
Ungewöhnlich genug, wenn sich die Frontmänner von "The Pineapple Thief" und "Katatonia" zusammen tun, um sich selbst neu zu erfinden. Wenn bei so einer Kollaboration dann immer so ein Schmuckstück herauskommt, wie jetzt bei "Wisdom of Crowds", kann es gar nicht ungewöhnlich genug sein. Bruce Soord und Jonas Renske sind konsequent einen anderen Weg gegangen, haben ihr Können in einen großen Topf gegossen, kräftig umgerührt und ein wirklich gelungenes Side-Project gezaubert. Teilweise fühlt man sich sogar tatsächlich an die Soundstrukturen von Peter Gabriel erinnert, herausgekommen ist jedenfalls ein sehr melodisches Album mit tanzbaren Elektrosounds, hörenswerten Effekten und grandiosen Leadgitarren.
4
Rock & Pop
›› TIM BURGESS
›› ASHTRAY BOY
›› UNITED BIBLE STUDIES
›› SPARROW AND THE WORKSHOP
›› BELL X1
›› WE ARE LOUD WHISPERS
›› THE ELWINS
›› SKINNY PUPPY
›› LEAFLBADE
›› .COM/KILL
›› S.Y.P.H.
›› VARIOUS ARTISTS
›› R.E.M.
›› PIANO INTERRUPTED
›› BOBBY WHITLOCK
›› ZZ TOP
›› ERIK FRIEDLANDER/SCOTT SOLTER
›› LORD MOUSE AND THE KALYPSO KATZ
›› MOSS PROJECT
›› KILL YOUR BOYFRIEND
›› MORE LIKE TREES
›› THE BALLET
›› THE TRUFFAUTS
›› HOT HEAD SHOW
›› SALTLAND
›› ANDREW STOCKDALE
›› FRIDA GOLD
›› INFAMIS
›› POP(PE)´S TÖNENDE WUNDERWELT
›› QUICKSILVER
›› CÄTHE
›› ALIN COEN BAND
›› BOSNIAN RAINBOWS