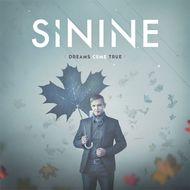 (Accession Records/Indigo)
Wer das zweite Album des Estländers Mauno Meesit über die Singleveröffentlichung "I'm dreaming" kennenlernt, könnte leicht in Versuchung geraten, den Stempel Electropop – Alles schon gehört – aufzudrücken. Aber langsam: Sinine kann deutlich mehr! Dreams come true verzückt mit äußerst komplexen Songstrukturen und lebt insbesondere durch die wirklich exzellenten Frauenstimmen, die als Gäste auf diesem Album mitwirken. Insbesondere diese Vokalartistinnen hauchen dem Album Leben ein und erzeugen ein Gefühl von Tiefe und Intensität. Da fällt es dann auch deutlich leichter, über die eingestreuten, alltagstauglichen Songs hinwegzusehen.
3
Rock & Pop
›› ROBERT POLLARD
›› NEIL YOUNG & CRAZY HORSE
›› HISS GOLDEN MESSENGER
›› CLOCKWORK ORCHESTRA
›› ANNA AARON
›› SPIRO
›› AMPARO SÁNCHEZ
›› JAN BANG / ERIK HONORÉ
›› THE ALMOST THREE
›› MOEBIUS & PLANK
›› KLUSTER
›› MACY GRAY
›› JAMES CHANCE AND LES CONTORTIONS
›› PINBACK
›› VADOT
›› DIARY OF DREAMS
›› THE SOFT MOON
›› TAMARYN
›› ANTENNAS
›› LUST FOR YOUTH
›› VOLKAN BAYDAR
›› ZERONIC
›› PATRICIA KAAS
›› LA PYRAMIDE DI SANGUE
›› NEIGUNGSGRUPPE SEX, GEWALT UND GUTE LAUNE
›› V.A.
›› AMY WINEHOUSE
›› QUICKSILVER
›› DEEP SEA ARCADE
›› FAI BABA
›› THE WALKABOUTS
›› MURDER BY DEATH
›› 1000 GRAM