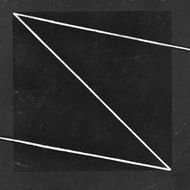 (Captured Tracks/Cargo Records)
"Zeros" startet mit einem furiosen Ende, der Opener "It end's" fegt durch die Boxen wie ein reinigendes Gewitter, nur zu dem Zweck, alles und jedes rein zu waschen, für das, was da noch kommen wird. Schnell wird aber klar, dass The Soft Moon weitaus mehr drauf haben, als nur die Gehörgänge ordentlich durchzupusten, Assoziationen zu den dunkelsten Abgründen Trent Reznor's und Nine Inch Nails sind sicher nicht von der Hand zu weisen. Das Album könnte ohne weiteres als Soundtrack eines Film Noire dienen oder die drohende Apokalypse klangvoll untermalen. Umso erstaunlicher, dass die 10 Songs dieses Albums nebenbei auf einer Tour entstanden sind, der Intensität hat das jedenfalls keinerlei Abbruch getan.
4
Rock & Pop
›› ROBERT POLLARD
›› NEIL YOUNG & CRAZY HORSE
›› HISS GOLDEN MESSENGER
›› CLOCKWORK ORCHESTRA
›› ANNA AARON
›› SPIRO
›› AMPARO SÁNCHEZ
›› JAN BANG / ERIK HONORÉ
›› THE ALMOST THREE
›› MOEBIUS & PLANK
›› KLUSTER
›› MACY GRAY
›› JAMES CHANCE AND LES CONTORTIONS
›› PINBACK
›› VADOT
›› DIARY OF DREAMS
›› TAMARYN
›› ANTENNAS
›› SININE
›› LUST FOR YOUTH
›› VOLKAN BAYDAR
›› ZERONIC
›› PATRICIA KAAS
›› LA PYRAMIDE DI SANGUE
›› NEIGUNGSGRUPPE SEX, GEWALT UND GUTE LAUNE
›› V.A.
›› AMY WINEHOUSE
›› QUICKSILVER
›› DEEP SEA ARCADE
›› FAI BABA
›› THE WALKABOUTS
›› MURDER BY DEATH
›› 1000 GRAM