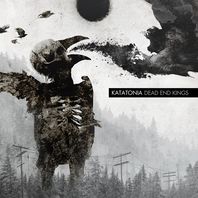 (Peaceville/Edel)
Katatonia reiht sich in die lange Liste skandinavischer Metaller ein, die den Kontinent mit düsteren Melodien überziehen. Metallisch ist das mittlerweile neunte Album der Schweden aber nur sehr selten, der Prog hat mittlerweile deutlich stärkere Einflüsse in ihrer Musik. Auch wenn es das Ende der Einbahnstrasse ist, sei ein König oder eine Königin und trage deine Belastungen mit Stolz, so die Aussage des aktuellen Albums. Das hier nicht Fröhlichkeit und Unbeschwertheit vorherrscht, dürfte klar sein, die Schwermütigkeit dringt aus jeder Pore "Dead End Kings". Leider schaffen es Katatonia nicht, einen Weg aus der Dunkelheit in ihre Musik zu übertragen, vielleicht ist aber auch das gerade das Ziel dieses Albums, dem man in jedem Fall eine gewisse Eintönigkeit nicht absprechen kann.
2
Rock & Pop
›› BLAUDZUN
›› MARIE & THE RED CAT
›› MICACHU & THE SHAPES
›› BELASCO
›› DAD ROCKS!
›› JANEL AND ANTHONY
›› LARS HOLLMER
›› THE REVEREND PEYTON'S BIG DAMN BAND
›› MACEO PARKER & WDR BIG BAND KÖLN
›› LARRY GRAHAM & GRAHAM CENTRAL STATION
›› THE EMPERORS OF WYOMING
›› SAMÚEL JÓN SAMÚELSSON BIG BAND
›› STAFF BENDA BILILI
›› IAMAMIWHOAMI
›› DREAMSCAPE
›› MAGIC TRICK
›› OPOSSUM
›› TOY
›› THE WALKABOUTS
›› FIREWATER
›› MOBILÉE
›› TIME AND SPACE SOCIETY
›› AMANDA PALMER & THE GRAND THEFT ORCHESTRA
›› POP(PE)´S TÖNENDE WUNDERWELT
›› BURN PILOT
›› ARCHIVE
›› SLUG GUTS
›› CALEXICO
›› LETZTE INSTANZ
›› PURITY RING
›› ANIMAL COLLECTIVE
›› GANES
›› DIE HEITERKEIT