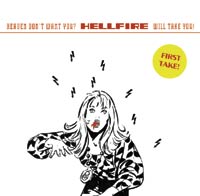 (Hausmusik)
Welcome to Trashworld! Von der Basis und ganz essentiell, weniger ist mehr, es braucht nicht viel, um groß zu wirken - wir kennen diese Floskeln nur allzu gut. Aber man kann sie auch stimmig verbinden und einheitlich vertonen. Hellfire packen dazu ein kantig-staubiges Drumset, einen schniek zerrenden Bass, schrammelige Gitarren und einen nöligen Uralt-Synthie aus, legen wunderbar knarzige, erzählende und anklagende Frauenstimmen in dieses Bett und erhalten ein unglaublich charmantes TrashRock-Album, das irgendwie die Maxime Punk vermittelt. Niemals brav, niemals böse. Aufgepasst! Hier besteht Suchtpotential.
4
Rock & Pop
›› ANGELIKA EXPRESS
›› SINCERE
›› BLUE RODEO
›› JIM & JENNIE AND THE PINETOPS
›› KATHLENN EDWARDS
›› V.A.
›› THE IMMORTAL LEE COUNTY KILLERS II
›› MUSTASCH
›› ANOUK
›› MARIA SOLHEIM
›› DEFAULT
›› CAT SUN FLOWER
›› NEPHEW
›› SINCH
›› CONIC
›› V.A.
›› CINERAMA
›› HOGGBOY
›› JOHNNY MARR + THE HEALERS
›› JEROBEAM
›› KELLY OSBOURNE
›› PAUL GILBERT
›› Jelly Planet
›› Eyes Adrift
›› Four Star Mary
›› Aqualung
›› TRASH PALACE
›› HELLMUT HATTLER
›› THE GO-BETWEENS
›› MASSIVE ATTACK
›› SPOOKEY RUBEN
›› HANK WILLIAMS
›› LAURA CANTRELL