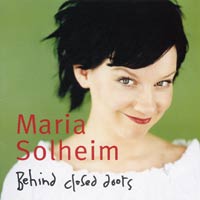 (Strange Ways/Indigo)
Dass die erst 20 Jahre junge Maria Solheim nun schon ihr zweites Album, welches ihr wunderbares Debüt eindeutig toppt, mit solchem Elan bewerkstelligt, mag fast an Zauberei grenzen. Herrlich melodiös, lyrisch tief und mit einer ideenreichen Band eingespielt wirkt das Album wie aus einem Guss. Und die wunderbar zerbrechliche und überaus ehrliche Stimme setzt Akzente, die natürlicher gar nicht sein können. Das ist talentiert und wird sicherlich noch lange Freude bereiten. Frischer Lagerfeuer-Pop für junge Leute. Und solche, die es gerne mal wieder für ein Stündchen sein möchten.
5
Rock & Pop
›› ANGELIKA EXPRESS
›› SINCERE
›› BLUE RODEO
›› JIM & JENNIE AND THE PINETOPS
›› KATHLENN EDWARDS
›› V.A.
›› THE IMMORTAL LEE COUNTY KILLERS II
›› MUSTASCH
›› ANOUK
›› HELLFIRE
›› DEFAULT
›› CAT SUN FLOWER
›› NEPHEW
›› SINCH
›› CONIC
›› V.A.
›› CINERAMA
›› HOGGBOY
›› JOHNNY MARR + THE HEALERS
›› JEROBEAM
›› KELLY OSBOURNE
›› PAUL GILBERT
›› Jelly Planet
›› Eyes Adrift
›› Four Star Mary
›› Aqualung
›› TRASH PALACE
›› HELLMUT HATTLER
›› THE GO-BETWEENS
›› MASSIVE ATTACK
›› SPOOKEY RUBEN
›› HANK WILLIAMS
›› LAURA CANTRELL