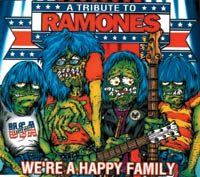 (Columbia / Sony)
Nach dem Tod von Joey und Dee Dee Ramone, war es eigentlich nur noch eine Frage der Zeit, bis ihre Songs durch Kameraden zu neuem Leben erwachen. Das die Reanimation ausgerechnet von einigen der größten und wichtigsten Rockbands unserer Tage wie U2 (Beat On Brat), Eddie Vedder & Zeke (I Believe In Miracles), Garbage, Tom Waits, Metallica (53rd & 3rd), R.H.C.P. (Havan Affair), Kiss (Do You Remember R´n´R Radio), Pretenders, Marilyn Manson (The KKK Took My Baby Away), Green Day, Offspring, Rob Zombie (Blitzkrieg Bop) u.a. ausgeht, mag verwundern – doch schließlich haben alle von den Verdiensten und Pioniertaten der Ramones mit profitiert. Das Gute daran ist das Schöne darin: von 16 Cover fallen lediglich 2 unterm Tisch!
5
Punk/Hardcore
›› BIOHAZARD
›› FABULOUS DISASTER
›› HIGHSCORE
›› WHITE FLAG
›› THAT VERY TIME I SAW
›› HATEBREED
›› Jets To Brazil
›› DIMPLE MINDS
›› RAISED FIST
›› THE VANDALS
›› V.A.
›› TSUNAMI BOMB
›› THE VANDALS
›› SONDASCHULE
›› ALL BORO KINGS
›› GUTTERMOUTH
›› DAG NASTY
›› DONOTS
›› OSLO MOTHERFUCKERS
›› THE STEREO
›› MAD SIN
›› MUSTASCH
›› STANDSTILL
›› V.A.
›› UNWRITTEN LAW
›› BUTTHOLE SURFERS
›› FURTHER SEEMS FOREVER
›› MILLENCOLIN
›› FACE TO FACE
›› SNOWDOGS
›› THRICE
›› DESAPARECIDOS
›› BAD RELIGION