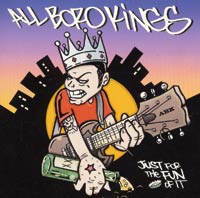 (Century Media)
So zackig kann das gehen - da packen sich die Herren Nastasi, Neabore und Kilkenny (die man von Mucky Pup und Dog Eat Dog her kennt) ihren alten Kumpel "Booge" hinters Drumkit und zaubern auf Geheiss von Produzent Tim Gilles kurzerhand ein wunderbares Spaßalbum auf Plastikteller, das sich von vorne bis hinten selbst erklärt. Denn der Name ist Programm und zieht sich wie ein roter Faden durch die 12 Eigenkompositionen, die an dieses eine DED-Album erinnern, dessen Name auch hier wiederzufinden ist. So buchstabiert man Party!
5
Punk/Hardcore
›› SONDASCHULE
›› GUTTERMOUTH
›› DAG NASTY
›› DONOTS
›› OSLO MOTHERFUCKERS
›› THE STEREO
›› MAD SIN
›› MUSTASCH
›› STANDSTILL
›› V.A.
›› UNWRITTEN LAW
›› BUTTHOLE SURFERS
›› FURTHER SEEMS FOREVER
›› MILLENCOLIN
›› FACE TO FACE
›› SNOWDOGS
›› THRICE
›› DESAPARECIDOS
›› BAD RELIGION
›› MCLUSKY
›› V.A.
›› BITUME
›› DISGRACE
›› BARCODE
›› RIVAL SCHOOLS
›› BRACKET
›› PIEBALD
›› BAD RELIGION
›› BEATSTEAKS
›› DIVISION OF LAURA LEE
›› ALWAYS OUTNUMBERED
›› THE LAWRENCE ARMS
›› LIMP