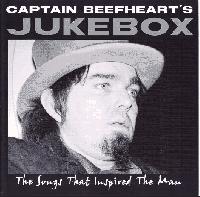 (Chrome / Inakustik)
Der als Don Glen Vliet 1943 in Los Angeles geborene Captain Beefheart war, wie wir alle, in frühen Jugendjahren auch ein ganz einfacher Musikhörer. Seine Karriere sei hier als bekannt vorausgesetzt. Doch was hörte der Captain, bevor er die Musik in Holzklotzgröße zerlegte und sogar aus dem Spanabfall noch akustisches Material heraushörte? Hauptsächlich stöberte er im traditionellen und später elektrisch verstärkten Handmade-Blues und die Übergangsmusik zum Rock'n'Roll. Es wird offensichtlich, woher Captain Beefheart seine Art des Singens vorgefunden hat – bei Howlin' Wolf ("Somebody In My Home") und Blind Willie Johnson ("You're Gonna Need Somebody On Your Bond"). Interessant auch, daß zwischen den Bluesshoutern auch Jazzer wie John Coltrane, Ornette Coleman und Louis Armstrong zu finden sind. Auch die zerhackte Gitarrenspielweise von Muddy Waters und Bo Diddley sind in Beefhearts eigenem Werk wiederzufinden. "Captain Beefheart's Jukebox" ist ein feines Zeitdokument zur Erweiterung einer interessanten Musikerbiografie.
4
Rock & Pop
›› FRUIT BATS
›› LUCKY ELEPHANT
›› YO LA TENGO
›› THE DODOS
›› NODZZZ
›› SIAN ALICE GROUP
›› ARNOLD/PRIMER/BRANCH/BELL
›› VARIOUS ARTISTS
›› DOWNPILOT
›› DIAL M FOR MURDER
›› PERE UBU
›› A MOUNTAIN OF ONE
›› SIX ORGANS OF ADMITTANCE
›› ÓLAFUR ARNALDS
›› ALLÁ
›› GONG
›› MÚM
›› PRINCES CHAMEAUX
›› QUICKSILVER
›› SWEET SOUL MUSIC REVUE
›› ROCKFORMATION _DISKOKUGEL
›› KARPATENHUND
›› VIRGINIA JETZT!
›› ALBERTA CROSS
›› POP(PE)´S TÖNENDE WUNDERWELT
›› THE INVISIBLE
›› ENO MOEBIUS ROEDELIUS / CLUSTER & ENO
›› KLEZMOFOBIA
›› SOMETREE
›› MEW
›› COUGAR
›› DARKER MY LOVE
›› WAINES