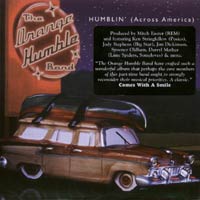 (Laughing Outlaw / Records)
Normalerweise klingen Scheiben, die gelangweilte Workaholics zum Spaß raushauen, deutlich schlechter als diese. Bandleader Dan Mather suchte sich geneigte Kumpane, die er in Leuten aus dem REM / Big Star Umfeld auch fand. Ken Stringfellow (Posies) lieh dem Produkt seine Stimme und dazu lud man sich Veteranen wie Spooner Oldham oder Jim Dickinson. Das Ergebnis ist eine durchaus originelle und vor allen Dingen unterhaltsame Mischung toller Songs aus der Schnittmenge von Southern Rock, ein wenig Memphis Soul und Gitarrenpop. Das alle Protagonisten hauptberuflich "Wichtigeres" zu tun haben, hört man diesem gelungenen Projekt wahrlich nicht an.
3
Rock & Pop
›› FUN LOVIN' CRIMINALS
›› LEAVES
›› THE VINES
›› RED HOT CHILI PEPPERS
›› GEOFF TATE
›› SLUT
›› KINKS
›› BLUESBREAKERS
›› WILLY SCHWARZ
›› MIKE OLDFIELD
›› THE EVINRUDES
›› LIQUID VISIONS
›› MIA.
›› THE DAMNATIONS
›› CAPERCAILLE
›› PERE UBU
›› THE BOGGS
›› SOLOMON BURKE
›› SPARTA
›› ADAM WEST
›› THE PATTERN
›› BESSER
›› NICOFFEINE
›› BOXCAR RACER
›› SKARKALEPSY
›› DIXIE WITCH
›› V.A.
›› ANTIMATTER
›› GERLING
›› STEROID MAXIMUS
›› NICKELBACK
›› JERRY CANTRELL
›› JULIANA HATFIELD