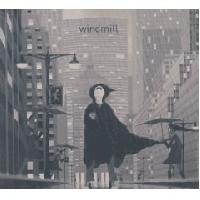 (Groenland Records)
Selten wirkt ein Brite so amerikanisch wie Matthew Thomas Dillon. Der junge Mann, der sich hinter Windmill verbirgt, singt mit einer ähnlich unwirklichen Stimme wie Mercury Rev, spielt das Klavier wie die Dresden Dolls und hat eine imposant-orchestrale Begleitung wie Arcade Fire. Seine Musik schwebt zwischen Verzweiflung und Euphorie, die Umsetzung eines Tim Burton-Films, zu schön, um Windmill live sehen zu wollen. Jedes Konzert könnte diese süße Illusion nur zerstören!?
6
V.Ö.: 18.05.
Singer/Songwriter
›› PELLE CARLBERG
›› TURNER CODY
›› BILL CALLAHAN
›› CHUCK RAGAN
›› THE NIGHTWATCHMAN
›› PETER VON POEHL
›› THE SECRET SHOW
›› JESSE MALIN
›› AMANDINE
›› PANDA BEAR
›› NILS KOPPRUCH
›› BOBBY BARE JR.
›› DAVID CELIA
›› MARIA TAYLOR
›› DIRK DARMSTAEDTER
›› MONTA
›› AT SWIM TWO BIRDS
›› V.A.
›› DAVID KARSTEN DANIELS
›› GET CAPE. WEAR CAPE. FLY.
›› BENJY FERREE
›› WOVEN HAND & ULTIMA VEZ
›› MILENASONGS
›› VINCENT DELERM
›› SAINT THOMAS
›› 17 PICTURES
›› GIANMARIA TESTA
›› SONGS OF GREEN PHEASANT
›› TOM WAITS
›› HOME OF THE LAME
›› NIKOLA SARCEVIC
›› SUFJAN STEVENS
›› BEN FOLDS