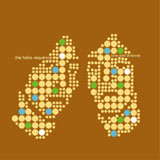 (Sub Pop/Cargo Records)
Himmel hilf, so muss ein Album beginnen: ein bombastisches Drumsample wird überrannt von einem noch viel bombastischeren Schlagzeug (hier gespielt vom Modest Mouse Mann Benjamin Weikel) um dann unterzugehen in einer schreienden Mundharmonika und verschnörkelnden Elektronika. Überproduziert? Nein, keineswegs. Dick, oh ja, gleichzeitig aber auch klar und strahlend, ambitioniert und schön. Schon beim ersten Hören wird deutlich, wie viel Mühe und Detailarbeit in jeden einzelnen Song gesteckt wurde. Parallelen lassen sich am ehesten ziehen zu der Musik der bescheidenden Mäuse ("Mönsch Alter, geiler Modest Mouse-Bastard!"). Nieder mit der neuen Bescheidenheit!
5
Weitere Infos:
› www.theheliosequence.com
Rock & Pop
›› BLUES EXPLOSION
›› NICK CAVE AND THE BAD SEEDS
›› CLIENT
›› I'M NOT A GUN
›› KOLOSSALE JUGEND
›› -M-
›› [The Real] Tuesday Weld
›› DAVID & THE CITIZENS
›› SAMBA
›› KLEZ.E
›› THE DRESDEN DOLLS
›› GIBBY HAYNES AND HIS PROBLEM
›› THE CHARLATANS
›› THE MARTINIS
›› LUKA BLOOM
›› STEWART COPELAND
›› TUXEDOMOON
›› MATS GUSTAFFSON / SONIC YOUTH with FRIENDS
›› CALIFORNIA GUITAR TRIO
›› OZOMATLI
›› VARIOUS ARTISTS
›› SEABOUND
›› RED HOT CHILI PEPPERS
›› V.A.
›› THE STILLS
›› SECRET MACHINES
›› ASIA
›› THE GO! TEAM
›› THE FINN BROTHERS
›› DEAD COMBO
›› THE ETERNALS
›› ALAN PARSONS
›› IT´S JOE AND DANNY