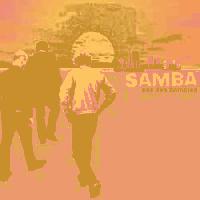 (tapete records/Indigo)
Unflexibilität kann man Samba wirklich nicht nachsagen, nunmehr zum dritten Mal haben sie ihr Label gewechselt und sind jetzt bei Tapete angekommen, dem Pool für deutsprachigen Pop, wo sie sich in bester Gesellschaft befinden dürften. Und tatsächlich ist alles bestens und nettestens drapiert und arrangiert, aber gerade von diesen tollen Bläsern und Begleitgesängen hat das Album an vielen Stellen einfach zuviel und überlastet das ansonsten recht gut gelungene Grundgerüst von Melodie und Text.
V.Ö.:06.09.
3
Weitere Infos:
› www.samba-pop.de
Rock & Pop
›› THE HELIO SEQUENCE
›› BLUES EXPLOSION
›› NICK CAVE AND THE BAD SEEDS
›› CLIENT
›› I'M NOT A GUN
›› KOLOSSALE JUGEND
›› -M-
›› [The Real] Tuesday Weld
›› DAVID & THE CITIZENS
›› KLEZ.E
›› THE DRESDEN DOLLS
›› GIBBY HAYNES AND HIS PROBLEM
›› THE CHARLATANS
›› THE MARTINIS
›› LUKA BLOOM
›› STEWART COPELAND
›› TUXEDOMOON
›› MATS GUSTAFFSON / SONIC YOUTH with FRIENDS
›› CALIFORNIA GUITAR TRIO
›› OZOMATLI
›› VARIOUS ARTISTS
›› SEABOUND
›› RED HOT CHILI PEPPERS
›› V.A.
›› THE STILLS
›› SECRET MACHINES
›› ASIA
›› THE GO! TEAM
›› THE FINN BROTHERS
›› DEAD COMBO
›› THE ETERNALS
›› ALAN PARSONS
›› IT´S JOE AND DANNY