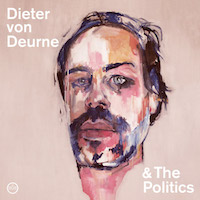 (Morr Music / Indigo)
Dieter aus Antwerpen heißt eigentlich Sermeus mit Nachnamen und man konnte ihn zuvor vier Alben lang bei der Band The Go Find bewundern. Es wurde Zeit für etwas Neues oder vielmehr etwas Altes, denn Dieter Sermeus kramt mit seiner neuen Combo ordentlich in der Nostalgiekiste seines eigenen musikalischen Werdegangs und Sozialisation. Das selbstbetitelte Album strotzt vor grooviger Schrammel- und Slackerrocknummern in bester Tradition der frühen 90er. Den Helden seiner Jugend hat er jedenfalls eine hörenswerte Hommage geschaffen.
4
Weitere Infos:
http://www.dietervondeurne.com
Rock & Pop
›› BEN GIBBARD
›› THE DUKE SPIRIT
›› MANCHESTER ORCHESTRA
›› IRON & WINE
›› AIVERY
›› ARCADE FIRE
›› MIDNIGHT SISTER
›› EISBRECHER
›› SUICIDE COMMANDO
›› HOCICO
›› IN EXTREMO
›› AMELIA BRIGHTMAN
›› POP(PE)´S TÖNENDE WUNDERWELT
›› R.E.M.
›› WAND
›› A GIANT DOG
›› QUICKSILVER
›› ZIMT
›› ZWANIE JONSON
›› STARSAILOR
›› TOGETHER PANGEA
›› L.A. WITCH
›› ALVVAYS
›› DAUGHTER
›› THE RIPTIDE MOVEMENT
›› FULL MOON FIASCO
›› GRAN NOIR
›› I WEAR* EXPERIMENT
›› MAX RICHARD LESSMANN
›› DECLAN MCKENNA
›› JOCO
›› LILLY AMONG CLOUDS
›› ABRAM SHOOK