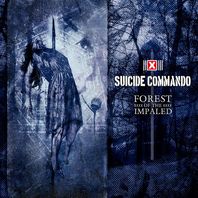 (Out Of Line)
Johan van Roy schlägt mit "Forest of the Impaled", dem neuen Album von Suicide Commando einen Pflock mit Urgewalt ins Herz der Verdammten. Seit mehr als dreißig Jahren erfindet sich der Belgier immer wieder neu, sein neues Werk kommt dennoch nicht nach dem Motto: Schneller, höher, weiter! Im Gegenteil, auch wenn die elektrischen Beats und Bässe deutlich an Schnelligkeit verlieren, kommt seine Botschaft umso brachialer und dunkler rüber. Sein "Wald" ist auch ein Einblick in seine dunklen Phantasien und Albträume, die auf dieser Veröffentlichung unnachgiebig und eindringlich umgesetzt wurden. Damit kann nicht nur seine eigene Wiedergeburt gefeiert werden, auch für die Szene ist "Forest of the Impaled" ein neuer Meilenstein.
5
Rock & Pop
›› BEN GIBBARD
›› THE DUKE SPIRIT
›› MANCHESTER ORCHESTRA
›› IRON & WINE
›› AIVERY
›› ARCADE FIRE
›› MIDNIGHT SISTER
›› EISBRECHER
›› HOCICO
›› IN EXTREMO
›› AMELIA BRIGHTMAN
›› POP(PE)´S TÖNENDE WUNDERWELT
›› R.E.M.
›› WAND
›› A GIANT DOG
›› QUICKSILVER
›› ZIMT
›› ZWANIE JONSON
›› STARSAILOR
›› TOGETHER PANGEA
›› L.A. WITCH
›› ALVVAYS
›› DAUGHTER
›› DIETER VON DEURNE AND THE POLITICS
›› THE RIPTIDE MOVEMENT
›› FULL MOON FIASCO
›› GRAN NOIR
›› I WEAR* EXPERIMENT
›› MAX RICHARD LESSMANN
›› DECLAN MCKENNA
›› JOCO
›› LILLY AMONG CLOUDS
›› ABRAM SHOOK