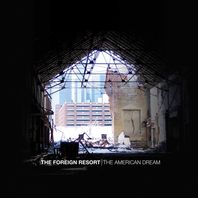 (Reptile Music/Ignition)
Mit ihrem 2014er Album "New Frontiers" sind die Dänen im vergangenen Jahr ordentlich getourt, daneben haben sie aber auch noch die Zeit gefunden, neue Songs für diese EP aufzunehmen. The American Dream hält die Tradition von "New Frontiers" ganz hoch, ihr Stil bleibt, eindringlich, dunkel und kraftvoll. Scharfe Post-Punk Gitarren gehen mit Dark Wave und Indiependent Hand in Hand und verschmelzen zu einer intenisven Mixtur. Im Juni und Oktober sind The Foreign Resort dann auch noch live im Sektor zu sehen, Oberhausen und Köln stehen auf der To-Do-Liste, ein Besuch dürfte sich lohnen.
4
Rock & Pop
›› JUPITER JONES
›› HUNT
›› WRAY
›› K-X-P
›› YUMA SUN
›› WELLE: Erdball
›› L'AME IMMORTELLE
›› HERON OBLIVION
›› TRAPPER SCHOEPP
›› REGENSCHEIN
›› OKTA LOGUE
›› FOLLY & THE HUNTER
›› BERGEN
›› BASEMENT
›› GUERILLA TOSS
›› BLACK MOUNTAIN
›› THE MONOCHROME SET
›› BLUE ANGEL LOUNGE
›› TOWN OF SAINTS
›› CULLEN OMORI
›› POP(PE)´S TÖNENDE WUNDERWELT
›› MIEKE MIAMI
›› POEMS FOR LAILA
›› TEHO TEARDO & BLIXA BARGELD
›› THE MONOCHROME SET
›› V.A.
›› QUICKSILVER
›› HAMMOCK
›› YNDI HALDA
›› MOGWAI
›› FACE TO FACE
›› EXPLOSIONS IN THE SKY
›› COVES