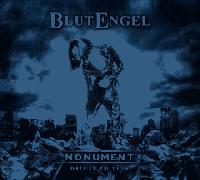 (Out of Line/Rough Trade)
Chris Pohl und Blutengel spielen nicht erst seit dem Twilighthype in der Vampirliga der deutschen Gothic-Szene. Mit schöner Regelmäßigkeit entführen uns die schwarzen Engel in die immerwährende Dunkelheit und warten dabei mit perfekt produzierten Alben auf. Auch das neue Werk erfüllt diese Kriterien bedingungslos, auch wenn "Monument" das Rad mit Sicherheit nicht neu erfindet. Die schwarze Seele wird hier ohrwurmtauglich bedient und das neue Werk wird keine Probleme haben, die Tanzflächen zu füllen.
3
Rock & Pop
›› SIREN
›› MOP MOP
›› LADY
›› GINTAS K.
›› PRAG
›› SMOKESTACK LIGHTNIN'
›› DANIEL NORGREN
›› NICOLAS REPAC
›› STEPHAN MATHIEU / DAVID SYLVIAN
›› YOUNG DREAMS
›› FUNERAL SUITS
›› SIN COS TAN
›› HELIUM VOLA
›› STEVEN WILSON
›› COMBICHRIST
›› SLAVE REPUBLIC
›› MOTORAMA
›› MF/MB/
›› DIORAMA
›› THE MARY ONETTES
›› ON AN ON
›› ATTWENGER
›› PRAG
›› CHUMBAWAMBA
›› POP(PE)´S TÖNENDE WUNDERWELT
›› V.A.
›› JEANS TEAM
›› THE KYTEMAN ORCHESTRA
›› QUICKSILVER
›› BOSSE
›› BUKE AND GASE
›› ELECTRIC BEATNIKS
›› SYCAMORE AGE