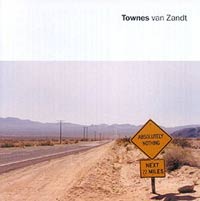 (Normal)
Man kann endlos diskutieren, ob das denn sein muß. Aber auch diese posthume Townes-Live Scheibe hat so ihre Momente. Die Aufnahmen von '94 kommen klar, positiv und bewußt daher, wie wenige Live-Aufnahmen des unbeständigen Meisters. Die letzten Studio-Aufnahmen vom Dezember '96 – einige Tage vor seinem Tod – sind dann erwartungsgemäß eher erschütternd, zerrissen und desolat. Abgerundet wird das Bild von zwei "Hidden Jokes". "Nothing" ist keine wichtige Scheibe, aber eine, die Townes in einer guten Verfassung in einer schwierigen Zeit zeigt. Insofern regt sie weniger zum Wehmut an, als noch der Vorgänger "In Pain".
3
Singer/Songwriter
›› FRANZ KASPER
›› JEFF BUCKLEY / GARY LUCAS
›› RYAN ADAMS
›› THE MENDOZA LINE
›› BETH ORTON
›› MASON JENNINGS
›› THE REINDEER SECTION
›› MICHAEL HURLEY
›› THE SLIP
›› HARDPAN
›› LARRY BUTLER & WILLIE NELSON
›› TRAM
›› SIXTEEN HORSEPOWER
›› SIXTEEN HORSEPOWER
›› BEACHWOOD SPARKS
›› DAVID JOHANSEN AND THE HARRY SMITHS
›› WOVEN HAND
›› BADLY DRAWN BOY
›› V.A.
›› V.A.
›› GRANT-LEE PHILLIPS
›› PINA
›› DAKOTA SUITE
›› SONGS: OHIA
›› TRANSMISSIONARY SIX
›› FRANKIE SPARO
›› KEV RUSSEL´S JUNKER
›› KELLY JOE PHELPS
›› GALLOP
›› LAMBCHOP
›› SODASTREAM
›› GÖTZ WIDMANN
›› JOINT VENTURE