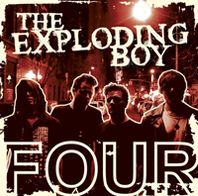 (drakkar/sony music)
Ihr Bandname ist eine Hommage an The Cure, die Musik ihres vierten Albums muß sich aber hinter ihren Vorbildern aus frühen Gothic-Tagen sicherlich nicht verstecken. Die Schweden beweisen auf ihrer aktuellen Veröffentlichung, dass sie ein sicheres Gespür für die Erschaffung kompakter Songs haben, die sich oftmals an Gothic und Wave orientieren, ohne sich wirklich festlegen zu müssen. Schon der Opener Cracked/Reasons verrät, wo die Reise in den nächsten knapp 40 Minuten hingeht, danach fällt kein Song wirklich ab. "Four" ist dicht, kompakt und wird von einem Rhythmus durchzogen, der sowohl die Uralt-Fans der "Sisters of Mercy" als auch die Enthusiasten der alternativen "Musikgewächse" überzeugen dürfte.
4
Rock & Pop
›› LANA IS
›› TOWN OF SAINTS
›› KRISTOFFER AND THE HARBOUR HEADS
›› I AM IN LOVE
›› DREAM THEATER
›› GUZ
›› LAND OF KUSH
›› METAL GHOST
›› BROWN REININGER BODSON
›› LESLIE WEST
›› RAINBIRDS
›› R. STEVIE MOORE
›› SABRINA STARKE
›› MICHAELA MELIÁN
›› KROHN JESTRAM LIPPOK
›› THE MARBLE MAN
›› BARTMES
›› THOSE DARLINS
›› TRIO SCHMETTERLING
›› KING OF THE WORLD
›› BILL ORCUTT
›› TIM KASHER
›› POP(PE)´S TÖNENDE WUNDERWELT
›› MILEY CYRUS
›› MIDLAKE
›› ANNA CALVI
›› QUICKSILVER
›› WYOMING
›› FAI BABA
›› TESS WILEY
›› ADULESCENS
›› DEATH HAWKS
›› MEGA! MEGA!