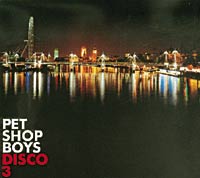 (Parlophone/EMI)
Gerade als man vermuten konnte, die Pet Shop Boys würden sich langsam aufs Altenteil zurückziehen, legen Neil Tennant und Chris Lowe nach. Hat das Duo beim letzten Album "Release" fast vollständig auf pumpende Discobeats verzichtet und seine sanfte Seite betont, so geht es mit "Disco 3" wieder auf den Tanzflur. Fünf neue Stücke, fünf Remixe und alles im rein elektronischen Klangdesign. Fraglich allerdings, warum die beiden auf Vocoder-Tricks setzen und Blank & Jones das feinfühlige "Home And Dry" in ein Four-to-the-floor-Korsett stecken dürfen, um es unter Filter-Geschraube in die Großraum-Disco zu treiben.
4
Floorfashion
›› MOLOKO
›› JÉRÔME PACMAN
›› PRAGA KHAN
›› SPACEPORT ORKESTRA OF BENARES
›› GROOVE ARMADA
›› JIMI TENOR
›› GALLEON
›› REWORK
›› V.A.
›› DJ Q
›› V.A.
›› SUPERFLAUSCH
›› LEMON JELLY
›› V.A.
›› AMBROS SEELOS ORCHESTER
›› BLAZE
›› CASSIUS
›› BOOTSY COLLINS
›› MARK RAE
›› THIEVERY CORPORATION
›› TURNTABLEROCKER
›› V.A.
›› SONO
›› V.A.
›› CLUB SIESTA POPULAR
›› BOY GEORGE
›› NIGHTMARES ON WAX
›› SWAYZAK
›› TONY ALLEN
›› BLAZE
›› MARK RAE
›› AMBROS SEELOS ORCHESTER
›› SONO