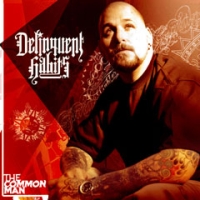 (Deepdive Records / Intergroove)
2009 präsentieren sich die Delinquent Habits stark dezimiert: nur noch Rapper Ives firmiert jetzt unter diesem Namen, der unwiderruflich (ergo verkaufsträchtig) mit dem Eintagsfliegenklassiker 'Tres Deliquentes' von 1996 verknüpft ist. Nachdem seine beiden Mitdelinquenten Kemo und DJ O.G. Style vor einiger Zeit das Bandana geworfen haben macht Ives jetzt alleine weiter, auch weil er recht froh darüber zu sein scheint, dass er jetzt der Alleinentscheider ist. Seltsamerweise hat er wohl entschieden, das alles beim Alten bleiben soll. So ist die Latino-Rap Party auf jeden Fall gerettet, aber angesichts solch gravierender Veränderungen und dem Anspruch 'immer fresh und ständig auf der Suche nach Neuem' zu sein, hätte schon ein bisschen mehr davon drin sein können. Für den Titeltrack gibts nen Extrapunkt.
VÖ 9.10.
4
Weitere Infos:
› www.delinquenthabits.net
Hip Hop
›› STREET SWEEPER SOCIAL CLUB
›› ABSTRACT RUDE
›› BUSDRIVER
›› DÄLEK
›› DILLANTHOLOGY
›› N.A.S.A.
›› YO! MAJESTY
›› KID ACNE
›› T. I.
›› BLAK TWANG
›› FLOBOTS
›› OUTLAWZ
›› BROOKLYN ACADEMY
›› RAASHAN AHMAS
›› ATMOSPHERE
›› C.R.A.C.
›› FLER
›› WHY?
›› BLACK SPADE
›› CADENCE WEAPON
›› JERU THE DAMAJA
›› WU-TANG CLAN
›› PETE PHILLY & PERQUISITE
›› LITTLE BROTHER
›› SOLE AND THE SKYRIDER BAND
›› V. A.
›› DÄLEK
›› SHAPE OF BROAD MINDS
›› GALACTIC
›› NOW-AGAIN
›› PUBLIC ENEMY
›› DIZZEE RASCAL
›› OUTLINES