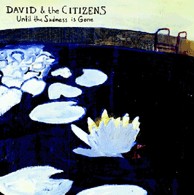 (Molotow Records/ Swamp Room)
Es ist wieder Zeit zum Seufzen. Der Kopf der (mal wieder: schwedischen) Bande ist natürlich David und der hat das Zittern und das Jauchzen in seiner Stimme, das wir einem Connor Oberst, einem Ben Folds oder einem Moneybrother zuschreiben können. Und dann sind da natürlich noch die Citizens mit ihrem Klavier, ihrer Trompete und ihren Gitarren. Da ist es schon fast vermessen einen bestimmten Hit raussuchen zu wollen, denn den Titel hat hier ungelogen fast jeder Track verdient. Trotzdem: "Graycoated Morning" rein und *seufz*!
5
Rock & Pop
›› THE HELIO SEQUENCE
›› BLUES EXPLOSION
›› NICK CAVE AND THE BAD SEEDS
›› CLIENT
›› I'M NOT A GUN
›› KOLOSSALE JUGEND
›› -M-
›› [The Real] Tuesday Weld
›› SAMBA
›› KLEZ.E
›› THE DRESDEN DOLLS
›› GIBBY HAYNES AND HIS PROBLEM
›› THE CHARLATANS
›› THE MARTINIS
›› LUKA BLOOM
›› STEWART COPELAND
›› TUXEDOMOON
›› MATS GUSTAFFSON / SONIC YOUTH with FRIENDS
›› CALIFORNIA GUITAR TRIO
›› OZOMATLI
›› VARIOUS ARTISTS
›› SEABOUND
›› RED HOT CHILI PEPPERS
›› V.A.
›› THE STILLS
›› SECRET MACHINES
›› ASIA
›› THE GO! TEAM
›› THE FINN BROTHERS
›› DEAD COMBO
›› THE ETERNALS
›› ALAN PARSONS
›› IT´S JOE AND DANNY