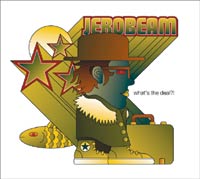 (Hazelwood / Universal)
Bei den ersten Takten des Projektes um Lennart A. Salomon alias Jerobeam denkt der Hörer zweifelsohne an "Beck". Denn wie sein bekannter Kollege setzt Lennart (ansonsten mit "Sono" elektronisch erfolgreich) auf das Prinzip: Alles ist möglich with Sprechgesang. Bevor sich allerdings so etwas wie Kopistentum einschleichen könnte, brilliert Jerobeam mit grandiosen Melodien, teuflischen Grooves, witzigen Samples und vor allen Dingen der tätigen Mithilfe von Mardi Gras.bb, die das Werk an den entscheidenden Stellen stilistisch prägen. Jerobeam ist originelle Popmusik mit jeder Menge Soul, ein wenig Funk, viel Witz und keinerlei Respekt vor irgendwas.
5
Rock & Pop
›› KELLY OSBOURNE
›› PAUL GILBERT
›› Jelly Planet
›› Eyes Adrift
›› Four Star Mary
›› Aqualung
›› TRASH PALACE
›› HELLMUT HATTLER
›› THE GO-BETWEENS
›› MASSIVE ATTACK
›› SPOOKEY RUBEN
›› HANK WILLIAMS
›› LAURA CANTRELL
›› GO PLUS
›› HANNES ORANGE
›› BIRDIE
›› ECHOBOY
›› SURROGAT
›› T.A.T.U.
›› COSMIC CASINO
›› ALICES GUN
›› MAD X-RAY
›› V.A.
›› V.A. - JOHN PEEL
›› THALIA ZEDEK
›› V.A.
›› Future Sound Of London present Amorphous Androgynous
›› CULTURED PEARLS
›› MASHA
›› DIARIO
›› KOUFAX
›› V.A.
›› SMASHING PUMPKINS